Friday, February 10th, 2012
Recent Comments
• ,
Yes! Christmas is less than a month away.As i can see people...
• Julie Blackwell
Today, St. Patrick school mourns the loss of a beloved teach...
• Thanks
I have a high regard for writer like you for you create art...
Visiting Peru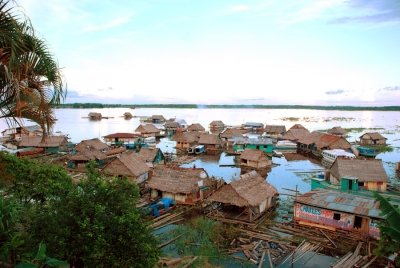 Machu Picchu. The Inkan Empire. El Dorado. Almost every mental image of South America that people have usually end up in one place: Peru. This vast South American country of twenty-nine million has a plethora of tourist activities to entertain people of any background. In this segment we'll get a run-down of various well known and as well as not-so-well known places to visit in this lovely country.
We'll start off with the iconic Machu Picchu, one of the 7 New Wonders of The World. This ancient Inkan city, nestled high in the Peruvian Amazon, will be a unique and memorable experience. After landing in Lima, most will board a seperate flight out to Cusco, ancient capital of the Inkan empire and the current capital of Peru's tourist empire. The city, which boasts cheap, quality hostels and lovely ancient architecture, is nestled in a valley high in the Andes at around 3,400m (11,200ft).
From Cusco, most will take the train to Aguas Calientes, base town for Machu Picchu. This train goes from mountainous Cusco all the way to the high, tropical amazon, passing by the River Urubamba and the lovely Sacred Valley of The Inkas on the way. Once at Aguas Calientes, a 15min bus ride will take you to the gate of Machu Picchu, perched on a mountainous peak above a beautiful jungle valley. It is easily, in the eyes of this well-travelled writer, one of the most beautiful places on planet Earth. Machu Picchu is not all Peru has to offer though, far from it.
Those completing the Southern Circuit, which consists of Cusco, the volcanic city of Arequipa, and the altiplano region of Puno, don't even get to see half of all Peru has to offer. In the same region of the country can be found the desert city of Nazca, cradle of an ancient civilization and a great tourist base camp for other activities. Here, aside from Sand Boarding for those of you into extreme sports, lie the Nazca lines, enormous figures in the desert constructed over a milenia ago. From Nazca you can rent a cheap charter plane (or even better, a hot air balloon) and go over these mysterious figures in the sand built by a civilization that couldn't even see (supposedly) what they were building.
Further north, for those of you not so rushed to go to Cusco, is the aforementioned Lima Metropolis, where most land. This city had much to offer as far as historic attractions as well as culinary ones. Peru is known to have some of the best food on the planet, and Lima is well known to have some of the best food in Peru. It boasts the restaurant Astrid & Gaston, voted one of the 50 best restaurants in the planet, as well as other local restaurants.
A trip to Peru is incomplete without trying some ceviche, native to Peru and prepared with raw fish boiled in Lime juice and Rocoto, a hot sauce made with bell peppers. Other local cuisine to try is Anticuchos, broschettes made from Beef heart and served shish kabob style. Lima is an excellent launching pad to try Peruvian cuisine as one can find food from all 3 regions of Peru: the coast, the andes, and the Amazon.
Speaking of the Amazon, Peru is the country with the 2nd biggest portion of the Amazon Rainforest. For that reason, a trip to Peru would be incomplete without a visit to the world's largest rainforest. Despite it's distance, there are several places for one to visit from. From Lima, flights to Pucallpa, Tarapoto, or Iquitos are possible.
In these lowland jungle cities, cuisine differs greatly from any other region in Peru. Here to try are large freshwater fish such as the paiche, and meats from jungle mammals such as the sajino (a type of jungle hog) and for the more adventurous, Agouti, a type of jungle rodent. Don't pass up the chance to try a variety of fruits available only in the rainforest, such as the camu-camu, the guanabana, and the chirimoya.
Also in these jungle cities are the opportunity to book exclusive tours of the rainforest. In the jungle city of Iquitos, the largest city in the world inaccesible by roads, there are many licensed, credible tour operators in and around the Main Square. For usually only around 50 USD a day, you can take tours to see monkeys, tropical birds, anacondas, and other animals usually holed up and depressed in most urban zoos. Here you get to see them in their natural habitat, as well as enjoy other activities in this hot, Amazonian city, not the least of which is partying. Iquitenos have a reputation among Peruvians for partying, and there are no shortage of dance clubs and "discotecas" in town.
Another good option for visiting the Peruvian Amazon is the aforementioned Tarapoto, which has daily flights from Lima and is known as La Tierra De las Cataratas (Land of The Waterfalls). This beautiful jungle area has one of the highest concentration of orchids and butterflies in Peru.
Visitors will be also be delighted by it's "cloud forest" location. At a little over 350m (1155ft) above sea level, the temperatures aren't as high as in Iquitos and more importantly, the humidity isn't as high as the lower Jungle. Its central location in Peru makes it a nice launching pad to other Peruvian hotspots, which, although too many to go into detail, include the large city of Trujillo (surfing capital of Peru), Chachapoyas (higher mountainous jungle with the 3rd highest waterfall on earth), and other Peruvian tourist areas.
So as you can see, there is more to Peru than meets the eye or that can be summarized in just one article. To really get a good grasp of this beautiful South American wonder, why not come see for yourself? Your next life-changing experience is waiting.